A Week-Long Class with The Indiana River Rescue School in Swift-Water Rescue. 

My Experience, takeaways, and what you can look forward to if you consider taking this class.
By Severen Henderson for Department3C
During a week in early May of 2022, I had the opportunity to attend a Swift Water Rescue class through the Indiana River Rescue School in South Bend, IN. This was a fantastic experience but also challenging and satisfyingly difficult. The IRRS is one of the few schools in the United States that offer this kind of training, and it is undoubtedly a team-building exercise for emergency rescue responders from all over the country.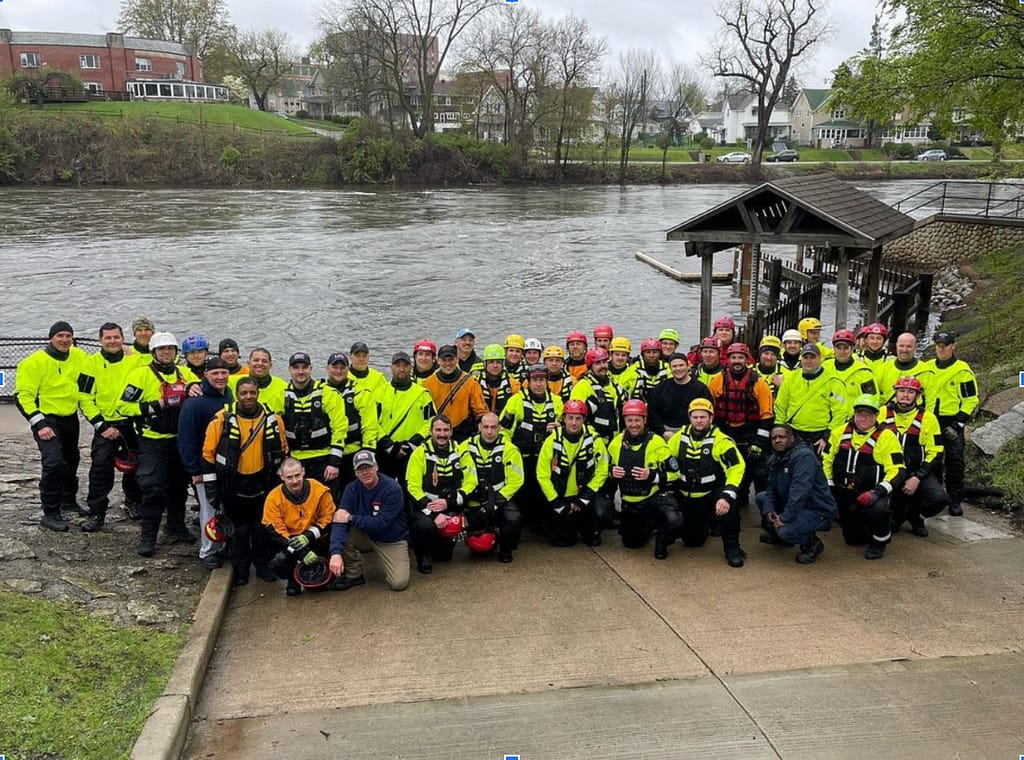 Suppose you need to become more familiar with Swift Water. In that case, the definition is as follows: "Swift Water is defined by the National Fire Protection Association (NFPA) as water moving at a rate that exceeds one knot or approximately 1.15 miles per hour (mph). By comparison, the average walking pace is 3.3 mph." -NFPA.
As you can see, the speed doesn't have to be fast for water to be considered Swift Water. But then the question comes up what Swift Water Rescue is? Again, the definition is as follows: Swift Water rescue is a subset of technical rescue dealing with white water river conditions. Due to the added pressure of moving water, swift water rescue involves using specially trained personnel, ropes, and mechanical advantage systems that are often much more robust than those used in standard rope rescue. -Wikipedia
It takes a lot of training and specialized equipment to perform a rescue in these conditions.
The class I took was the Basic Technician level which is 40 hours long and covers everything from safety, personal protection, throw bags, boats, and so much more.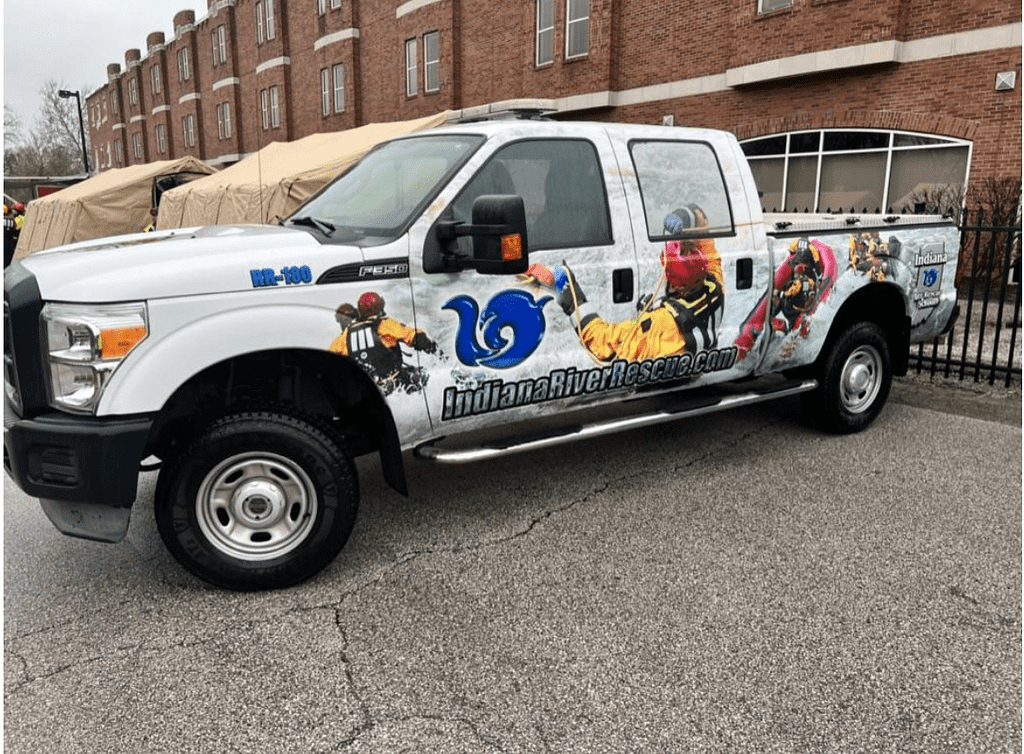 Another notable point to mention about the course and the Indiana River Rescue School is that they are members of IAWRP. The International Association of Water Rescue Professionals has been around since 2012. The association's vision which can be found on its website, is as follows: "IAWRP's vision is to bring members from all disciplines of the worldwide water rescue community together to promote safety, training, and best practices. We strive to enhance the success of this low-frequency, high-risk water rescue activities. IAWRP raises awareness of the critical role that water rescue responders provide in the safety and security of our fellow citizens."
Being a part of the association is a great honor and carries much weight in the water rescue world. Another issue to consider is that the occasions on which these potential rescues may be carried out are "low-frequency, high-risk." Within the world of emergency rescue, these are the scenarios that first responders prepare for the most. These rare rescue situations can happen anytime and sometimes without warning.
The Indiana River Rescue School (IRRS) was formed in 1983 through the collaboration of the South Bend Fire Department and the Indiana Department of Natural Resources. The South Bend Parks Department and the Ohio Department of Natural Resources lend assistance.
The Indiana River Rescue School is in downtown South Bend's heart. It follows NFPA 1006 Standard for Technical Rescuer Professional Qualifications and training requirements outlined in NFPA 1670.
The 5-day course includes hands-on training in the St. Joseph River, its distinctive "L" shaped dam, and the nationally renowned East Race Waterway. The East Race Waterway is a 2000-foot white water excursion that meanders through the city's center. It has been the location for many Olympic trials and World-Class kayaking competitions. It provides an authentic and controlled training environment, becoming a major training area for Swift Water Rescue.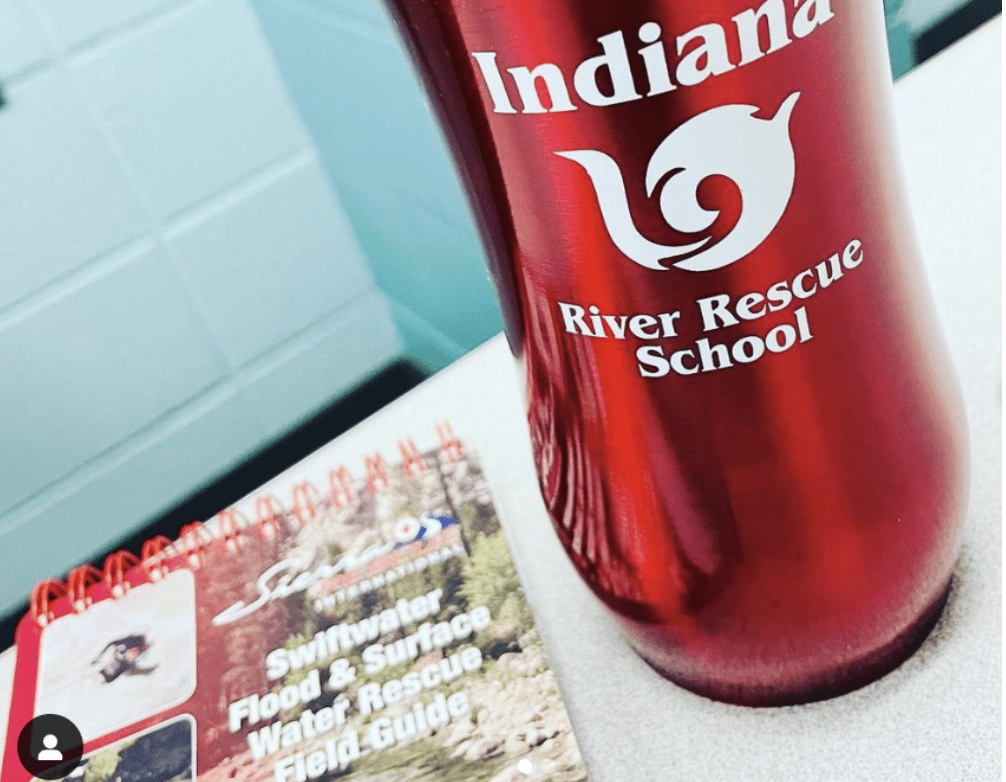 Without giving away too much about the class, this post will explain why you should attend this class if you ever get the opportunity. If you check out the website, you will see that classes stay full, and there is a waiting list to attend. My first suggestion regarding this class is to sign up quickly and get on the waiting list!
Class Description (Without Giving Away Too Much)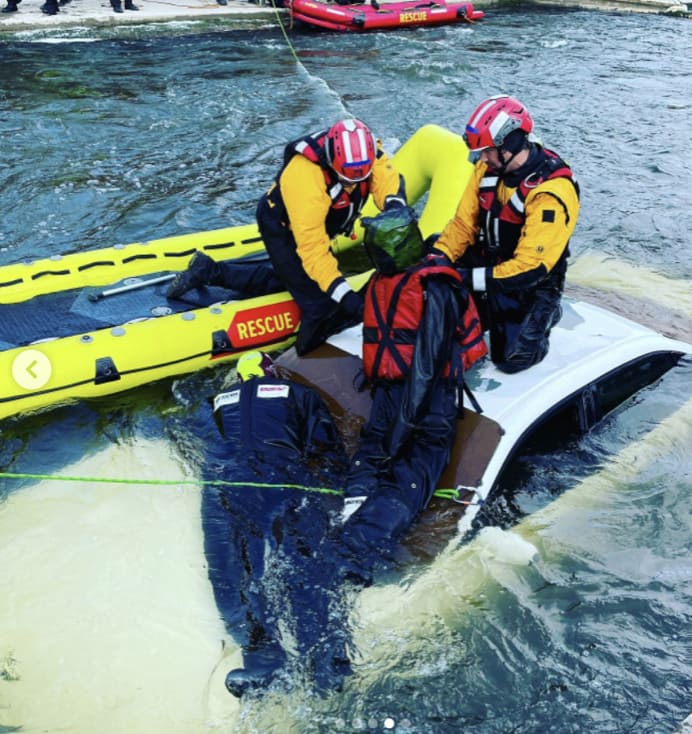 The instructors are some of the most experienced in the industry, which is fantastic! They know what they're talking about and are happy to share their expertise. The team is extremely friendly and willing to answer any questions related to the class. Whether the question is straightforward or complex, they have an answer if you pose it!
Second, the class is a healthy challenge! I have been taking classes for years, and this was one of the hardest and most satisfyingly rewarding classes I've ever enjoyed! Throughout the week, you will learn about rope systems and different methods for patient rescue. Throwing ropes at people may appear simple, but it's one of the most challenging skills you will learn and practice.
Another significant upside to the class is that you'll be assigned with other students to complete various activities that will test your new skills. This is when team building and togetherness come in handy.
Teams can contain any number of individuals; most of the time, they're people you just met Monday in class. To accomplish objectives successfully and efficiently, you'll bring your social abilities, cognitive skills, and physical skills with a bit of leadership.
Command Structure Related to the Class.
Everyone gets a turn at being the exercise's incident commander. This way, everyone gets a taste of what being in command is like. First responders, especially those new to the trade, may take a back seat and follow the orders of the Incident Commander. And while some incidents only require listening to orders and then following them. Some incidents require a competent person to be in charge, and depending on the circumstances; it could be you!
Another class highlight is allowing everyone on each team to perform every task, from a rescuer to command. To lead, you have to know how to follow. And knowing how to follow can sometimes be a skill within itself.
While everyone on the scene is a safety officer and can call "STOP" if they detect something they don't think is safe. The Incident Commander's position compels someone to consider safety more seriously. Getting the opportunity to act in this role for incidents is vital to developing one's career. And what better way to learn these skills than in a class that is so demanding?
What to bring to class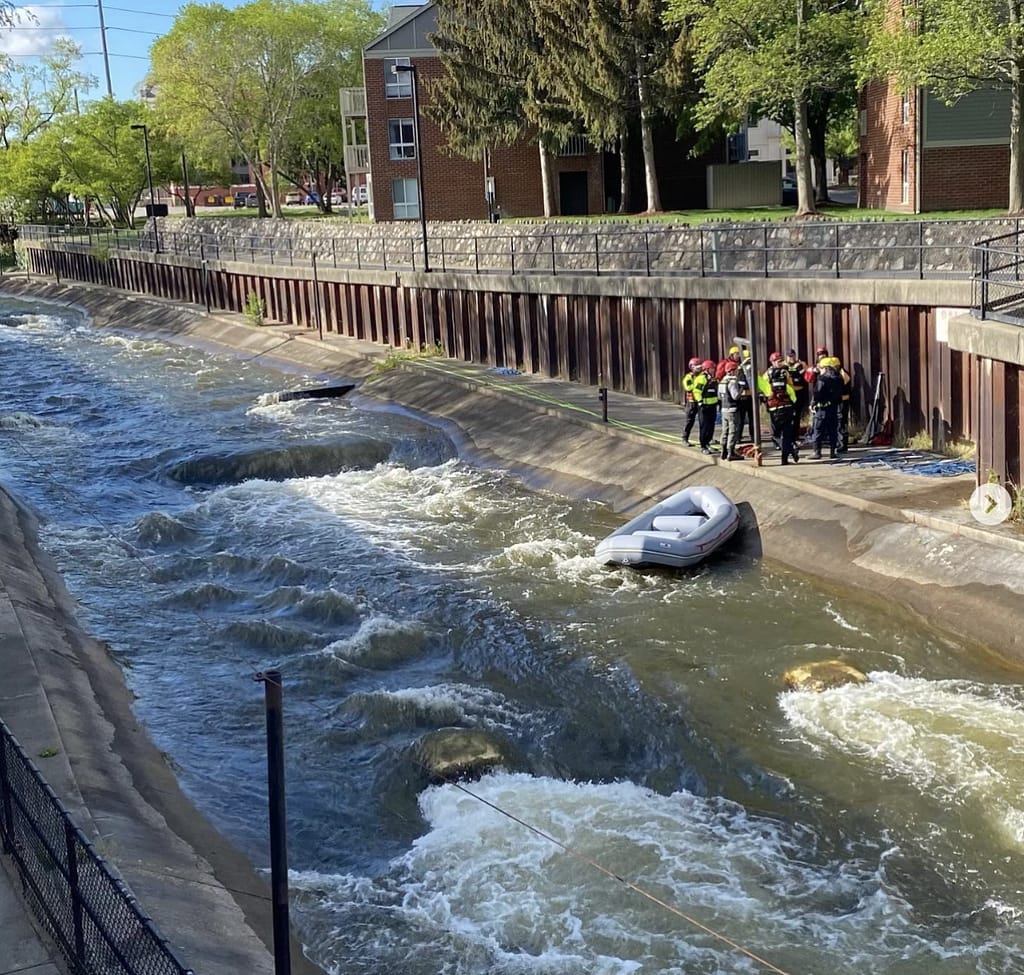 Depending on your department or how you will pay for and enroll in the course, you may already have Swift Water Rescue equipment. I won't go into what you'll need for the class regarding gear because it is covered in the handout you will receive once you've been accepted to class. What I will tell you about now is what you'll need for those long training days!
First, no matter how dry your suit is supposed to keep you, bring back dry clothes. Trust me, you can be buttoned up to the T, and water will find that path of least resistance and get you wet! When (not if) that happens, you want to have something dry. You get so wet, and the class keeps moving. You learn to accept being wet eventually. But once the class ends, you'll appreciate that you brought something dry to change into.
Speaking of being dry… Bring a towel. While like I mentioned before, you will eventually get used to being wet. Having a dry towel will be another lifesaver for this class.
For sale by the school is a dry bag for you to place some of your items in that will do exactly what the bag is called. It will keep your stuff dry. Please take advantage of getting the bag in your first couple of days because you will need it.
If you are a person that has to have your phone on you all of the time, something that you should invest in is a waterproof phone case. Some Swift Water suits have outside pockets that seal and are supposed to keep items dry. But to make sure, invest in a waterproof case. That said, please remember where you have your device on your body. Again this is a physically challenging class that requires you to perform movements without being able to worry, "I am going to damage my device." I advise leaving your device in your dry bag, and if you have to, check it later.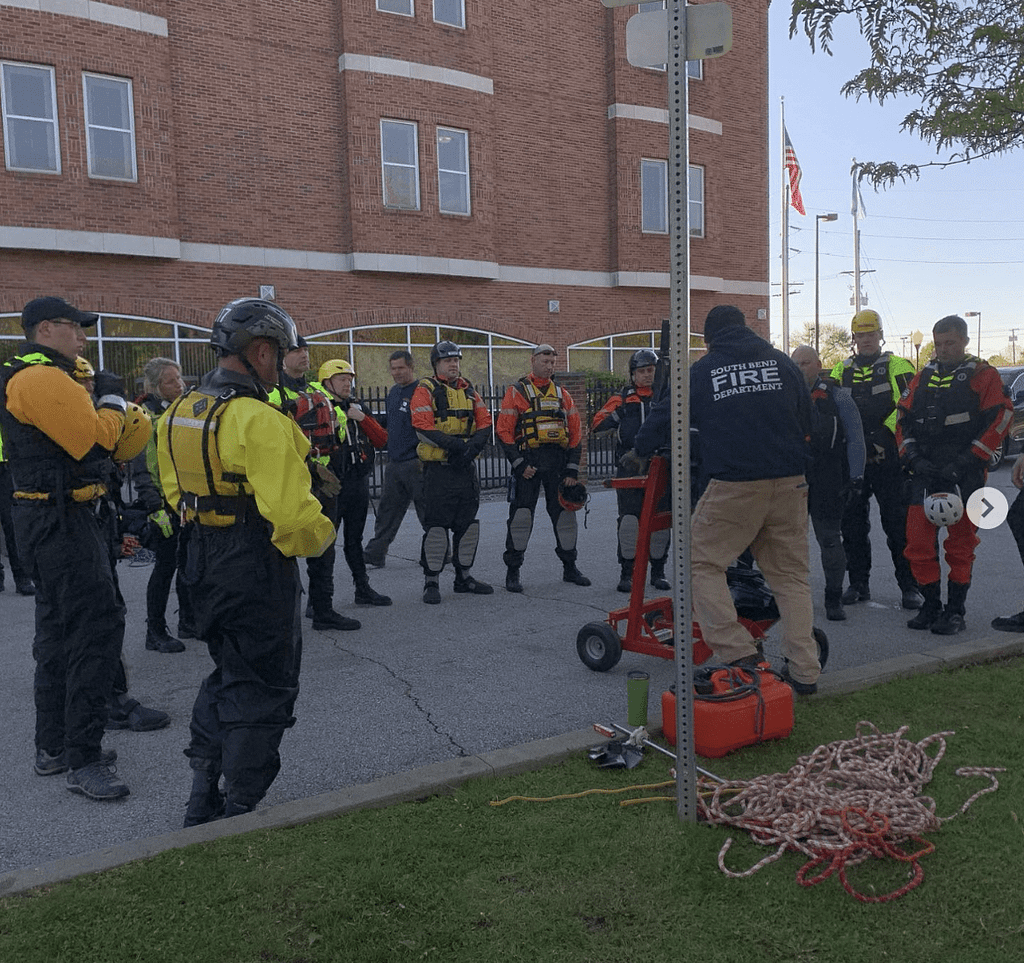 Something that I forgot, and I wished that I had brought, though, is a GoPro camera. I saw some of the students with GoPros on their helmets and bodies for certain class evolutions, and it was something I wish I had taken with me. Being able to capture cool stuff is always fun. Capturing training moments also gives you another opportunity to review and critique your performance. The only thing that I would add to wearing a camera is to make sure that it's cool with (A) the instructors and (B) the other students around you that can be on film.
Tide pods, laundry detergents, or travel laundry detergents are all items that might be beneficial if you stay in a hotel. Hand-washing some of your stuff may become necessary if you need to bring more clothing to keep you warm. Remember that the class is a week long, and you will be wet! This is where having some laundry soap becomes handy.
Anytime you wash, you have to dry what you washed. That caused me to buy an oscillating fan from a local shop while I was there. A fan is such a helpful thing to have in the first place, and it came in handy for this class! A box fan will suffice, but you'll want one if you want your gear to dry overnight away from the river site.
And finally… You will not have to bring one with you because you will work one up after all the hard work. But bring your appetite! Consider bringing some snacks like fruit, granola, or protein bars. Lunch is served every day, and the food provided is exemplary. My best advice here is not to overeat! It's hard getting in and out of Swift Water suits. And especially in a hurry! So take your breaks slowly and moderate yourself accordingly.
I saw students bring some other things I should have thought of. For instance, nose plugs would have been nice to have. And depending on if the person wore prescription glasses, they might have had prescription goggles.
Again, the course materials and instructors will instruct you on additional items and actions to take while on the river. Keep your mouth shut is my advice here. Not as if you're a chatterbox who can't stop talking, but keep your mouth shut while in the water. You want to avoid consuming river water! Some students should heed that advice from the instructors. The next day, these students returned with some interesting stories about what happened to their digestive systems.
Bring a positive attitude! At the end of the day, you will be tired, wet, and hungry, but you'll have completed an incredibly gratifying week of training.
Conclusion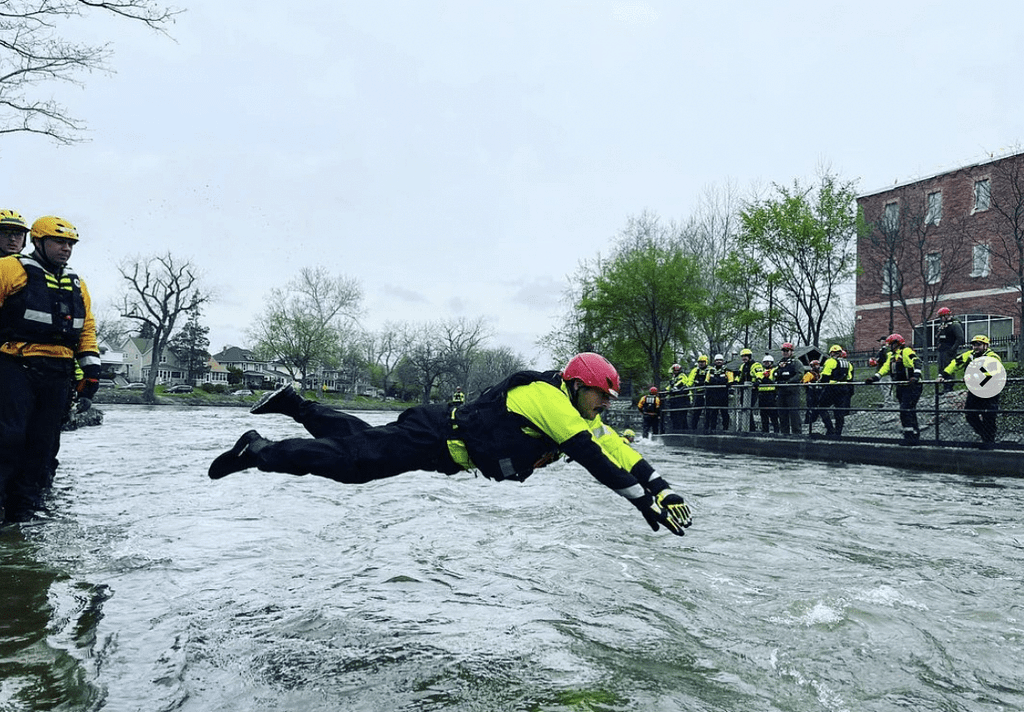 I hope this article has given you some helpful tips for your week of swift water training! Please refer to the Indiana River Rescue School's website for any questions.
And if you have already taken this class and can offer additional information to this post, don't hesitate to contact me. I would love to hear from you! Until then, stay safe out there.
Serial Entrepreneur Severen Henderson (@iamsevy) is the owner and operator of Department3C, a social media marketing agency. He's also a podcaster, content creator, copywriter, and public speaker. In his spare time (which is rare), he enjoys reading books on business and self-improvement. A quote from him is, "I want to help people share their message with the world."